2004 Benoit Family Reunion
---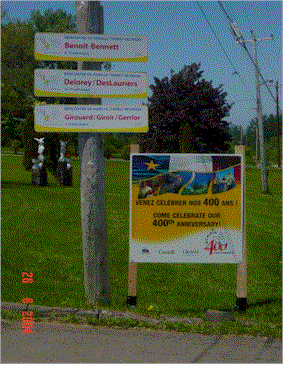 ---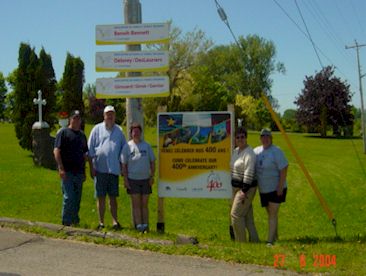 Members of L'Association Benoit were very pleased with the turnout for the 2004 Benoit Reunion and will be sure to travel to New Brunswick in 2009 to repeat the pleasure.
The photo on the left was taken at the entrance to the Monsignor Robert Donnelly Hall (formerly St. Peter' s Parish Hall). The cemetery is in the background.
Standing next to the directional signs are Alfred Benoit, Lloyd Boucher, Brenda (Benoit) White, Camilla Benoit and Lorraine (Benoit) McKeough.
---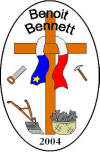 Our logo, designed by Aaron McKeough, grandson of Jessie and the late Frankie Benoit were stamped on t-shirts for sale at the reunion. We incorporated the cross with the draped flag representing the Acadian faith to God and country; the hammer and saw representing their skills at woodworking and lumbering; the plow representing farming and the basket of fish representing their livelihood from the sea. St. Peter's Parish was established in 1803 and celebrated its' Bicentennial in 2003. The oldest existing register begins with the record of a baptism administered on 11 February 1811. The second page records the burial of Pierre Benoit

who died at Tracadie at the age of 82 on 19 April 1811.

Descendants of Pierre Benoit are still involved in the parish life of St. Peter's Parish and the community. Today the name BENO╬T has spread throughout the Maritimes, to many areas across Canada, the United States and elsewhere. We were especially pleased with the enthusiasm of our Louisiana cousins.

One of the main reasons for holding the reunion is to give our BENO╬T/BENNETT cousins a chance to meet one another (many for the first time) and to return to the beautiful homeland of our ancestors.

We are situated halfway

between Antigonish and Port Hawkesbury and nestled between Pomquet and Havre Boucher villages.

Another reason is to provide the opportunity to share genealogy research with others working on the same branch of the BENO╬T family. And last, but certainly not least, to have fun!

Home | Benoit Reunion | Tracadie Vets | Tickets | Where to Stay | History
You are visitor number
Website designed and maintained by Blue Rock Consulting & Design.
ę2003. All Rights Reserved.
27 November, 2007 01:45 PM